Day Trip In the Cajun Motherland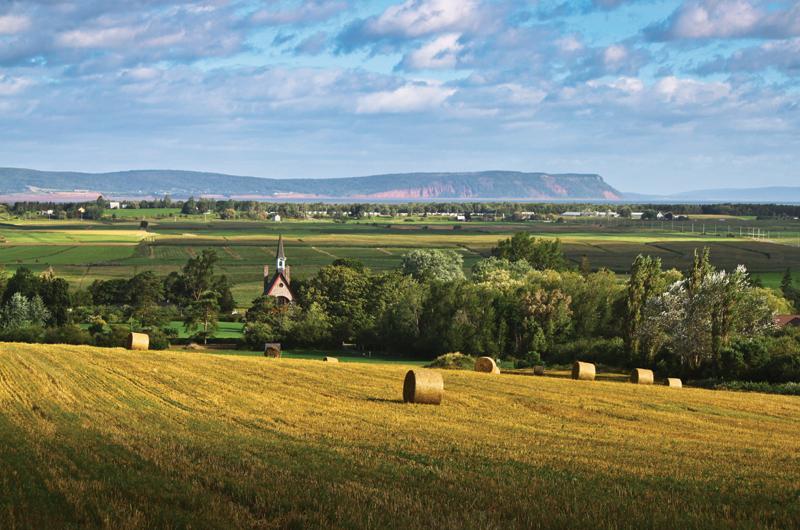 As we travel this route, see how many Acadian Markers you can spot…they are dotted along the roadside.
Leaving from the Port of Halifax, we'll head to Grand Pre National Historic Site and UNESCO World Heritage Site. Located on reclaimed shores of the Bay of Fundy and once home to a large Acadian community, Grand Pre now boasts a wonderful visitor's centre dedicated to preserving and promoting Acadian history. Through interactive displays and an interesting multimedia presentation, we'll spend some time exploring the history of Acadians and the sad story of their deportation. Following a visit to the centre, stroll the expansive gardens, visit the memorial chapel and explore the nearby trails offering stunning views of the Acadian landscape.
A short drive will take us to the Deportation Cross. Erected in 1924, this cross marks the site where Acadian deportees were loaded onto row boats and taken out to the transport ships anchored in the Minas Basin. Take some time to reflect and imagine the scene in 1755.  As we leave, we'll take a short detour to the View Park on Old Post Road, allowing us to appreciate the full expanse of Grand Pre.
We'll travel through the quaint town of Wolfville and over Acadian Dykelands to the village of Port Williams.  Here we'll lunch, following which, if time allows, we'll visit Blomidon Look-Off where stunning panoramic views of the Minas Basin will captivate you!
On our return to Halifax, we'll stop in Falmouth at the Sainte Famille Cemetery and interpretive area.  The cemetery was discovered by 'accident' in 1996 during the early stages of excavation for a housing development!  It's estimated this cemetery holds the remains of some 300 Acadians from the 1st half of the 18th century.
Following Sainte Famille, we'll briefly stop in Windsor to visit the Blockhouse at Fort Edward, a National Historic Site of Canada, where British colonial officials intended to assert government authority in the Piziquid area, one of the centres of Acadian settlement in the Province. The Blockhouse was among the first of two hundred blockhouses constructed in Canada and is the only structure of the fort surviving from the 1750's.
We'll return to Halifax directly from Windsor.
As with all Blue Diamond Tours, this is tour can be tailored to your own personal interests. Contact us for more information.
From $400.00
Package conditions
For 1 - 6 people. Includes entrance fees.