Rendez-Vous 2017 Tall Ships Regatta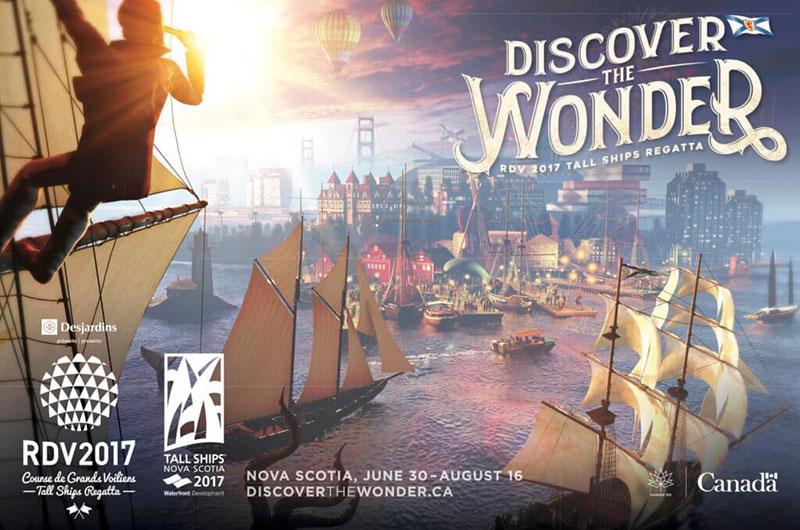 Led by Sail Training International, Rendez-Vous 2017 Tall Ships Regatta is a transatlantic race of 7,000 nautical miles taking place over the course of five months in 2017. The race starts at the port of Royal Greenwich in Great Britain on April 13 and finishes in the port of Le Havre, France, which will welcome the grand winner between August 31 and September 3. There will be stops in Portugal, Bermuda, the United States and Canada along the way. Tall ships will visit Canada to honour the 150th anniversary of the Canadian Confederation. Between late June and mid-August, tall ships will visit 11 ports around Nova Scotia, including Lunenburg, Pictou, Sydney, St. Peter's, Louisbourg, Pugwash, Port Hawkesbury, Halifax, Shelburne, Digby and end with an evening sail past in Annapolis Basin, a first for Nova Scotia. Nova Scotia Dates: Check out highlights from all of the ports with more detail to come! From great local culinary experiences, entertainment, history, Aboriginal programming, and fireworks, no two ports will be alike! Plus public access to the tall ships will be free at the Nova Scotia ports of call. Pictou, Pugwash, Port Hawkesbury, June 30 to July 2 Halifax, July 29 to August 1 Sydney, St. Peter's, Louisbourg, August 4 to August 6 Lunenburg, August 10 to August 12 Shelburne, August 14 to August 15 Digby, August 15 to August 16 Annapolis Royal Sail Past, August 16 Ticketed Island Events Now on Sale for Halifax program! Joel Plaskett Emergency & Port Cities Rock Georges Island Presented by Atlantic Lottery Taste of Nova Scotia Culinary Experiences on Georges Island Explore Georges Island McNabs Island Picnic Interested in taking part in a sail training adventure during Rendez-Vous 2017 Tall Ships Regatta? Visit Sail on Board for more information and opportunities.  Interested in volunteering in Nova Scotia ports? Click here to express interest, or email rdv2017volunteers@wdcl.ca.
Admission details
Admission prices vary by event and location.
Visit Website